News for Knights of Columbus
VOLUME 40 │ NUMBER 52 │ DEC. 26, 2022
As we celebrate the Christmas season and look back at the past year, Knights around the world remain steadfast in the mission of our Founder, Blessed Michael McGivney, to care for the widow and the orphan. Protecting life, strengthening families, supporting the Church and serving in charity wherever there is a need, they continue to demonstrate that "where there is a need, there is a Knight."
Supreme Knight Patrick Kelly addresses attendees at an event at First Choice Women's Resource Center in New Brunswick, N.J. Bishop James Checchio of Metuchen and other K of C leaders were present to celebrate the 1500th ultrasound machine the Knights of Columbus donated to pregnancy care centers through its Ultrasound Initiative.
2022 Year in ReviewAmid war, natural disasters and political change in 2022, Knights around the globe stood for freedom, defended life, shared the faith and offered help to families in need. This end-of-the-year video highlights some of the Order's many accomplishments over a year marked by various milestones, challenges and new initiatives. WATCH NOW
A Ukrainian woman carries away a Knights of Columbus care package that she received during her visit to the Albertine Brothers.
Packages for UkraineKnights in Poland, with assistance from volunteers, have assembled and sent more than 100,000 care packages to Ukraine since the Russian invasion last February. These packages are received by Knights in Lviv, Ukraine, and distributed throughout the country to those in need. During a five-day visit at the beginning of Advent, Supreme Knight Patrick Kelly joined brother Knights in both countries preparing and delivering care packages to help Ukrainian families celebrate Christmas.
"The message I delivered today to the refugees that I met was that you are not alone in this crisis," the supreme knight said. "The Knights of Columbus are here with you, and it is our job to serve others." WATCH NOW | LEARN MORE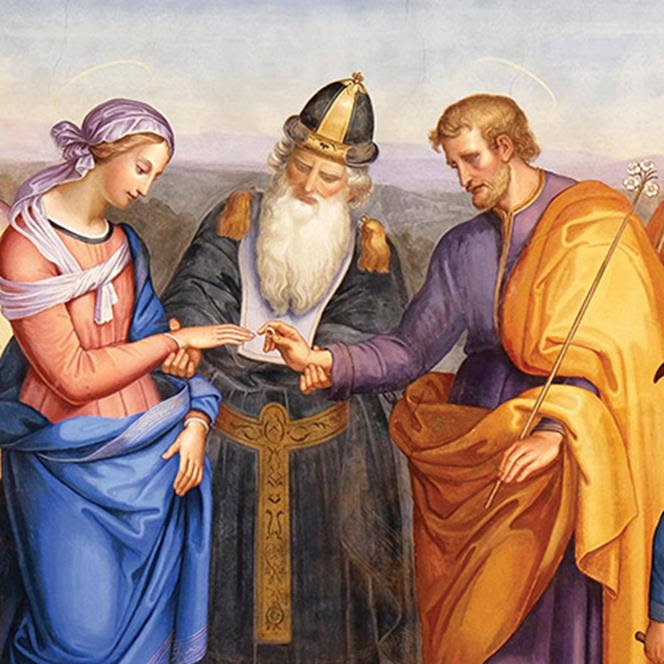 Joseph, Did You Know?

"Matthew's Gospel says that Mary's 'husband Joseph, being a just man and unwilling to put her to shame, resolved to send her away quietly' (1:19). So what does Joseph suspect has happened, why does he resolve to send Mary away, and how does his decision reveal him to be a 'just man'?" In the December 2022 issue of Columbia, Joe Heschmeyer, author of A Man Named Joseph: Guardian for Our Times, reflects on the way St. Joseph's response to Mary's pregnancy reveals the heart of his mission as a husband and father. READ MORE
Prayer Planner for 2023

Just in time for the new year, the Knights of Columbus has released its Vivat Jesus Spiritual Planner, a pocket-sized prayer book and calendar for 2023. This spiritual planner includes information about Blessed Michael McGivney and what it means to be a Knight, suggested daily prayer plans and practices, devotions, liturgical feast days, the Supreme Chaplain's monthly challenge and more. It is designed especially to help men develop and maintain a daily prayer routine. Vivat Jesus is available in English and Spanish. LEARN MORE
Tell others about KnightlineForward this newsletter to Catholic men interested in the Knights, and let them know that they can become a member at kofc.org/join. You can also share your questions, feedback and story by emailing knightline@kofc.org.
Any links to third-party sites outside of the Knights of Columbus are provided for information purposes only. This is not an endorsement of the service providers. Share questions and feedback by emailing knightline@kofc.org.